Aiphone
Experience seamless and secure communication with our Aiphone intercom systems. We specialize in the installation and setup of Aiphone intercom solutions for various residential and commercial applications. Enjoy crisp audio, convenient access control, and effortless communication between different areas of your property. Our expert technicians ensure proper wiring, integration, and configuration to deliver reliable and user-friendly Aiphone intercom systems.
Looking for Aiphone Intercom? We are Aiphone intercom system installation specialist serving Los Angeles and Orange County CA.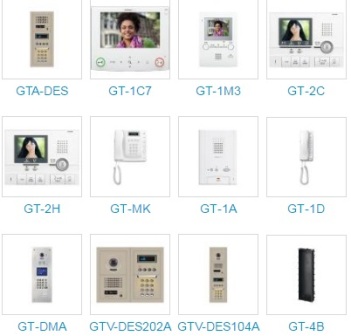 Audio Video Aiphone Intercom Systems
Aiphone Intercom Models: Pioneering Communication and Security Solutions

Aiphone stands as a pioneering brand in the intercom industry, renowned for its diverse range of intercom models catering to various applications. With a wealth of experience, Aiphone consistently delivers innovative and reliable communication solutions, effectively meeting the needs of residential, commercial, and industrial settings. Let's delve into some of the popular Aiphone intercom models and their wide-ranging applications.

Aiphone GT Series: The GT Series represents a versatile audio/video intercom system, ideally suited for multi-tenant buildings, high-rise apartments, and gated communities. With its sleek design and user-friendly interface, the GT Series enables residents to communicate securely with visitors. The integrated video feature provides an additional layer of security by allowing visual verification before granting access.

Aiphone JP Series: Exemplifying a harmonious blend of style and functionality, the JP Series is a perfect fit for residential complexes, small offices, and businesses. Equipped with hands-free communication and high-resolution video, the JP Series ensures efficient communication while enhancing overall premises security.

Aiphone JO Series: Designed for single-family homes and small businesses, the JO Series offers an easy-to-use and affordable intercom solution. Its compact design and touchscreen monitor provide crystal-clear audio and video communication, enabling users to conveniently interact with visitors from the comfort of their homes or offices.

Aiphone AX Series: The AX Series represents a robust intercom system catering to larger commercial and industrial facilities. Supporting a wide array of stations, including audio-only, audio/video, and touchscreen video stations, the AX Series boasts an expandable and flexible configuration to adapt to growing business communication needs.

Aiphone IS Series: The IS Series stands as a network-based intercom system, capable of integrating with existing IT infrastructure. This feature makes it a suitable choice for large-scale facilities, educational institutions, and healthcare centers. Its IP connectivity fosters seamless communication across different buildings and locations, promoting improved collaboration and security.

Aiphone IX Series: As an IP-based intercom system with extensive integration capabilities, the IX Series proves ideal for government buildings, transportation hubs, and corporate environments. Advanced features such as mobile app integration, SIP compatibility, and video management software integration create a unified communication experience.

Aiphone LEM Series: For residential and small commercial applications, the LEM Series serves as a hands-free master intercom system. With simplicity and reliability at its core, the LEM Series is an excellent choice for basic communication needs in smaller spaces.

Aiphone intercom models extend their applications beyond traditional door communication. Integrating these intercom systems into access control systems allows for remote access management, visitor screening, and heightened security. Aiphone's unwavering commitment to quality and durability ensures these intercom models provide long-lasting performance, offering users enduring peace of mind.

In conclusion, Aiphone's comprehensive range of intercom models is tailored to specific applications and environments. Whether for small residences or expansive commercial complexes, Aiphone intercom systems deliver seamless communication and advanced security features. Leveraging cutting-edge technology and user-friendly interfaces, Aiphone continues to redefine the standards of intercom communication in the modern world.
Los Angeles
Aiphone Intercom
Specialist
Aiphone intercom system installation specialist serving Los Angeles and Orange County CA
What Makes Us Your Best Choice?
FREE Estimate & Consultation
Over 30 Years of Knowledge
We are Local
Certified Installers
Complete Product Line
Up-Grade - Installation - Sales - Service
Residential - Commercial - Hospitality - Educational
New Constructions & Retrofit
American Digitals offering Aiphone intercom system design, sales, service & install in Los Angeles and southern CA cities for home, office, business, school, warehouse.